Services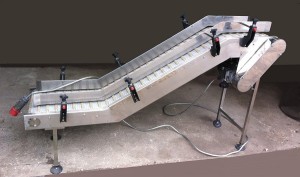 Elmec Systems Ltd has the following skills and services available:
General mechanical engineering (maintenance & installation) & fabrication.
General electrical engineering (maintenance & installation).
Mechanical & electrical design.
Control panel design & build facilities.
AutoCAD drafting facilites.
Electrical documentation using the latest version of Amtech Power software.
NICEIC Approved Contractor.
Installation & commissioning.
Supervision & small project management.
Stainless steel fabrication.
Submersible pump workshop for the repair of pumps.
Stainless Steel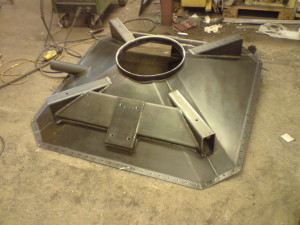 We can also offer pipework fabrication & installation in Stainless steel. This is more commonly used in the food processing industry.
Other services:
Bespoke gantries & brackets for pipe supports
Break-ins organised to limit disruption to production
Inspect, survey & report on existing installations
Welding carried out to industry standard regulations
In house computer aided design facility.
Fabrication is carried out with all mediums, ie stainless steel, mild steel, aluminium etc covering a wide range from sensor brackets to Industrial platforms / staircases
design and install high quality architectural stainless steel balustrades, metal stairways, stainless steel handrails, walkways, ladders and platforms. Practical or decorative, outdoor or indoor, industrial or residential we are able to provide a complete service for our stainless steel handrail systems to our clients, nationwide.
Our service is available to offices, hospitals, schools, supermarkets, hotels and many other establishments. All types of stainless steel handrails, metal staircases, stainless steel balastrades are manufactured. Design drawings and structural calculations are provided to BS5395 Parts 1 & 2.
Bespoke design Sheet MetalBespoke Service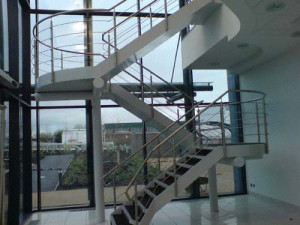 Bespoke quality systems together with in-house design, manufacture and installation services, nationwide for all types of applications. We manufacture Complete Stairways together with providing Structural Calculations and Manufacture Drawings for our clients.
All types of metal staircases, stainlees steel balustrades and handrails are manufactured including entrance stairways, fire escapes and spiral staircases. Stainless Steel Handrail Systems available are:
Powder coated
Plastic coated
Stainless steel
Satin or bright polished
Brass, oak or beech
We also supply balastrade infill panels (glass options available), perforated panels, stainless steel wire rope, tubular mid rails, structural glass panels and anodised aluminium.
CAD drawing and design service
Our service does not only start with receiving a drawing for manufacture, we offer a full CAD drawing and design service, to ensure that we meet, at this early stage, our stringent quality standards
Computer Numerically Controlled machining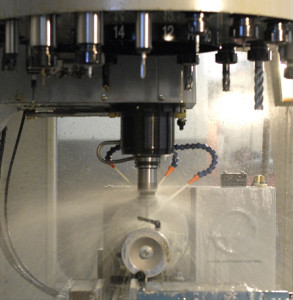 We have a range of CNC machines able to handle a single item up to 1mtr x 1/2mtr x 1/2mtr in size and in any metal or plastic.
CNC machines offer greater speed of manufacture, repeatability for larger runs, greater accuracy in tolerances down to 0.01mm, consistency of quality and provide a more cost effective solution to our customers
Traditional Milling and Turning machining
Providing a cost effective solution to the manufacture of one off bespoke items in any metal or plastic up to 1mtr x 1/2mtr x 1/2mtr in size.
We are proud to offer this more traditional method of manufacture and still provide time served apprenticeships to those aspiring to become engineers.
Whichever method of manufacture is used, throughout the process quality standards are checked and then double checked to ensure that we get it right first time, every time.